Palo Alto, California, Nov 9, 2023 - Soniox and Scribe are pleased to announce the integration of Soniox's groundbreaking speech recognition AI into Scribe's world-class platform and integration technologies for mobile and desktop. This integration has resulted in an eightfold increase in the efficiency of creating medical documentation with human editors involved, as well as improved accuracy in the final documents.
Soniox has recently released an industry-leading speech recognition AI technology that achieves unparalleled accuracy in word recognition and text formatting. Additionally, Soniox has developed a document formatting AI service, which converts transcripts into custom-formatted documents. Users can specify various formatting options, such as dates, numbers, and measurement units, to be applied to the transcript, resulting in a final, formatted text. They can also define annotation configurations to split and annotate the text into discrete paragraphs with headers, all automatically derived from voice interactions with Soniox's AI technology.
With the integration of Soniox into Scribe's documentation platform, the roles of transcriptionists and quality assurance staff have evolved to focus primarily on proofreading. Previously, the production team had to listen to the full length of a patient encounter's audio and often replay sections to ensure accuracy. In contrast, with other speech technologies, they would need to listen to two minutes of audio for every minute of dictation to transcribe a document accurately.
With Soniox, in most cases, transcriptionists no longer need to listen to the entire audio. This efficiency allows them to quickly review the generated document for errors. Consequently, instead of spending two minutes for every minute of audio, editors can now spend approximately 15 seconds proofreading for each minute. In terms of time spent, editors are now dedicating only about 25% of the audio's total length to reading and proofing, as opposed to the previously required listening and transcribing.
Additionally, in many instances, documents can be sent to clients without any human-made changes, as the review process validates their 100% accuracy.
Chart 1 showcases the key competitive metrics identified by Scribe when comparing Soniox with other technologies. Soniox's AI technology is eight times more efficient in the creation of medical documentation with human editors in the loop than other providers.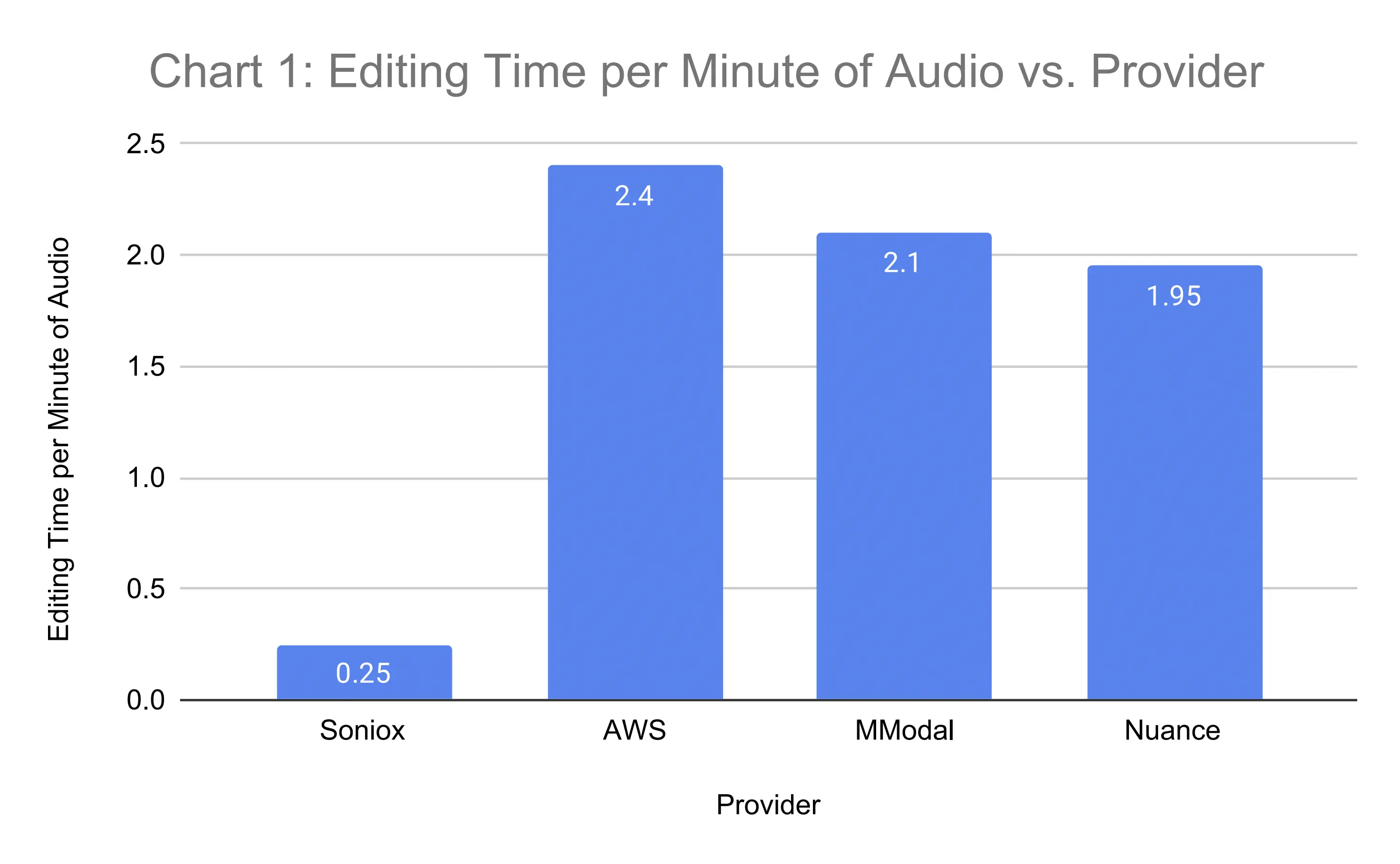 Chart 2 displays the percentage of Scribe's users (healthcare professionals) for whom various providers produce editable drafts. These drafts are subsequently refined by editors to produce the final document. This metric is significant as it removes the need for transcription of the entire audio from scratch.
Soniox provides useful drafts for all of Scribe's users, demonstrating its speech AI technology's ability to accommodate a wide range of medical specialties, accents, speakers, and recording environments. In contrast, other providers frequently fall short, producing drafts that are not cost-effective for some speakers compared to typing from scratch.
"We are thrilled to see that our advancement in speech AI technology significantly increases the efficiency and accuracy of medical documentation, and we are seeing similar outcomes in other industries," said Klemen Simonic, CEO of Soniox.
"With these advancements, the productivity, profitability, and ability to care for patients have never been higher or more cost-effective for healthcare organizations," said Mark Boyce, CEO of Scribe.
Healthcare organizations that utilize Scribe's tools achieve a boost in productivity and profitability, with an added emphasis on patient care. Scribe's cost-effective solutions enable providers to produce detailed documentation, leading to improved reimbursements, faster receivables processing, and fewer denials. Notably, Scribe's desktop solutions are available at less than half the cost of those offered by any competitor.
About Soniox: Soniox was founded in 2020 in Redwood City, California with the mission to deeply understand audio and make it universally accessible and useful. Soniox developed the world's first self-learning artificial intelligence for automatic speech recognition and is a leader in speech/voice AI technology. To learn more about Soniox, visit https://soniox.com.
About Scribe: Scribe is the leading cloud enabled solutions company for healthcare providers to optimize productivity, profitability, and patient care while returning flexibility, control, and productivity to healthcare organizations through simplified, intuitive, and innovative back office solutions. Learn more at https://www.scribe.com.
Media Contacts:
Mark Boyce: mboyce [at] scribe.com
Klemen Simonic: klemen [at] soniox.com
Business Wire Release