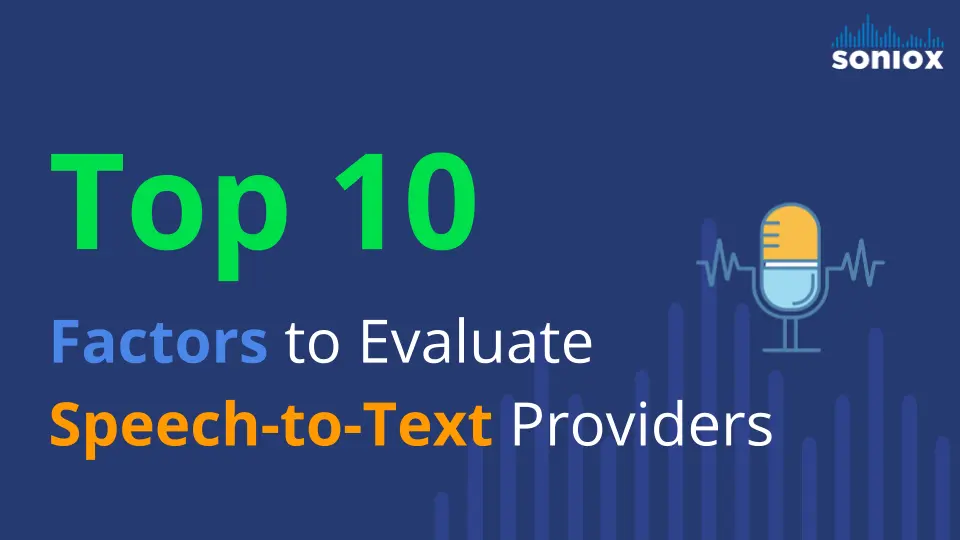 1. Speech Recognition Accuracy
What is the Word Error Rate (WER) for your specific use case?

Domains: medical, contact center, sales, legal, etc.
Channels: telephony, video conference, in-person or hybrid meetings
Accents
Background noises: chatters, traffic, music, applause, cheers, etc.
Interjections & crosstalks
Speaking formats: monologues, 1:1 conversations, group conversations, presentations, dictations
Audio quality

Be sure to use double-reviewed and normalized ground truth transcriptions when benchmarking
Can the accuracy be improved with customization?
Does the accuracy hold up in real-time vs batch processing?
2. Comprehension Quality
Are the punctuations accurate?
Are the capitalizations accurate?
Are numbers and units formatted properly?

Example: "$7.72" vs "seven dollars and seventy two cents"
3. Real-Time Performance
How high is the latency when transcribing live?
How does latency impact user experience?
How does the accuracy of non-final words compare to final words?
When a speaker talks fast, is latency further impacted?
How does the accuracy in real-time compare to batch processing?
4. Pricing
Are there different tiered speech-to-text models at different price points?
Does the provider charge for multiple streams/channels? Or does the provider charge only for 1 single stream/channel?

Example:

1 hour of a 5-person meeting = 5 hours of audio charge OR
1 hour of a 5-person meeting = 1 hour of audio charge

Is the price quoted for real-time speech recognition or batch processing?
Are there further discounts for non-urgent file processing (e.g. within 24 hours)?
Are there volume discounts?
Are there charges for additional fees for features such as speaker diarization, speaker identification or content moderation?
5. Deployment Options
What are the available deployment options?

Public cloud API
Private cloud API
On-premises
On-device
6. Scalability & Reliability
What is the expected uptime?
Are the deployments multi-region/multi-continent?
What is the maximum number of concurrent streams/files supported?
7. Ease of Integration
How long is it going to take your developers to integrate with the speech-to-text provider?
Are there SDKs in your chosen language?
8. Customization
What type of customization does the provider support?
Can you customize transcription on-the-fly without any model retraining?
Or, does the provider require additional data for model retraining?
What is the accuracy gain of using customization?
9. Accuracy of Additional Features
Does your application require additional features such as speaker separation (diarization), speaker identification or content moderation?

If so, be sure to benchmark the performance of these features.

It is one thing for a provider to say "Yes, we have feature X" and a completely different thing to actually deliver feature X with high accuracy.

Example: most providers support speaker diarization; yet the accuracy of their speaker diarization is usually low - around 75%.
10. Ownership of the Stack
Does the speech-to-text provider use any third party vendors under the hood?
Was the product built from scratch?
How quickly can the provider deliver new features?