Palo Alto, California July 28, 2021 - Soniox Inc released audio AI that automatically transcribes audio and annotates it with real-world entities and their contextual information, providing an augmented representation of the audio stream in real-time and low-latency. Soniox offers this novel technology in Soniox APIs, iOS app and web application.
Soniox has developed Soniox Knowledge Graph to further enhance the accuracy of Soniox Speech Recognition AI and to provide relevant contextual information about the recognized speech in the audio. Soniox Knowledge Graph has been harnessed from publicly available data and it contains millions of entities that are grouped into hundreds of concepts. The knowledge graph contains structured information about the entities (infoboxes) and the entities themselves are interlinked. Each entity is also linked to the Web with the best-appropriate URL (e.g. Wikipedia page, medical database). The knowledge graph is constantly increasing with more entities and knowledge about the entities. Soniox Knowledge Graph serves as a bridge between speech in the audio and its information on the World Wide Web.
Soniox Knowledge Graph is used in conjunction with Soniox Speech Recognition AI to automatically transcribe audio and annotate the transcription with recognized entities from the Soniox Knowledge Graph, all happening simultaneously in real-time and low-latency. To support these requirements, Soniox has developed an entity matching engine to efficiently find the entity matches and potentially disambiguate the entities. Soniox offers the recognition and annotation in a single API call, which makes it easy to use and integrate in any downstream applications.
To showcase the new technology, Soniox has integrated Knowledge Augmented Audio AI into Soniox iOS app and Soniox web application. These applications transcribe any audio streams and at the same time highlight the recognized entities in the live transcript. By clicking on the highlighted entity, the additional information about the entity is presented in the form of infobox next to the live transcript of the audio.
"We have developed a new audio augmented experience" said Klemen Simonic, Founder and CEO of Soniox. "We have world-leading speech recognition AI that is now tightly coupled with a large structured knowledge base about the world. Our technology instantly transcribes, annotates and provides relevant information about the speech in the audio. We expect this technology to be used by numerous customers that require actionable insights about the audio."
Soniox also recorded a video demonstration of Knowledge Augmented Audio AI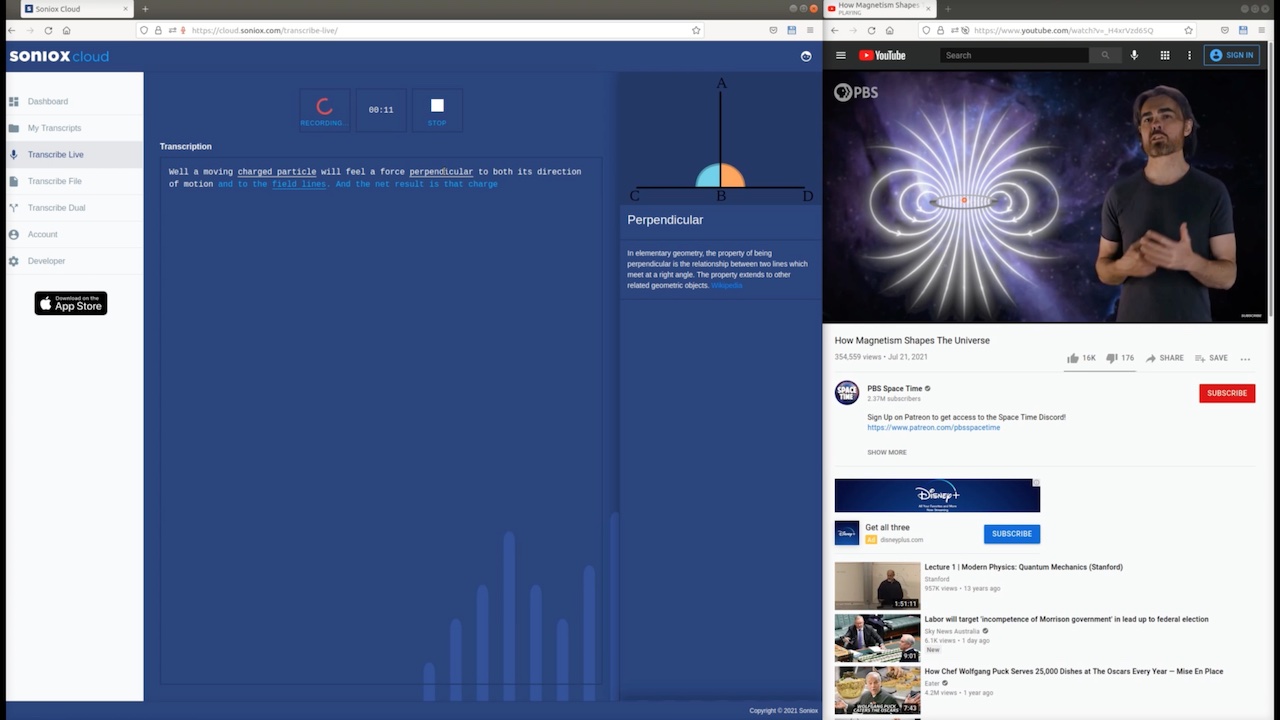 About Soniox Inc: Soniox was founded in April in 2020 in Redwood City, California. Soniox mission is to deeply understand audio and make it universally accessible and useful. Soniox developed the world's first self-learning artificial intelligence for automatic speech recognition and is a leader in speech recognition technology. To learn more about the Soniox, visit https://soniox.com.
Media Contacts:
Jennifer Grenz: jen [at] soniox.com